The prize amount depends on several factors that you input, including your weight loss goal. You only get your prize if you achieve your goal by the end of your weight loss competition. The average prize for goal achievers is $1,331. Weight loss is challenging – we supply the fun, motivation and accountability, but you have to supply the effort!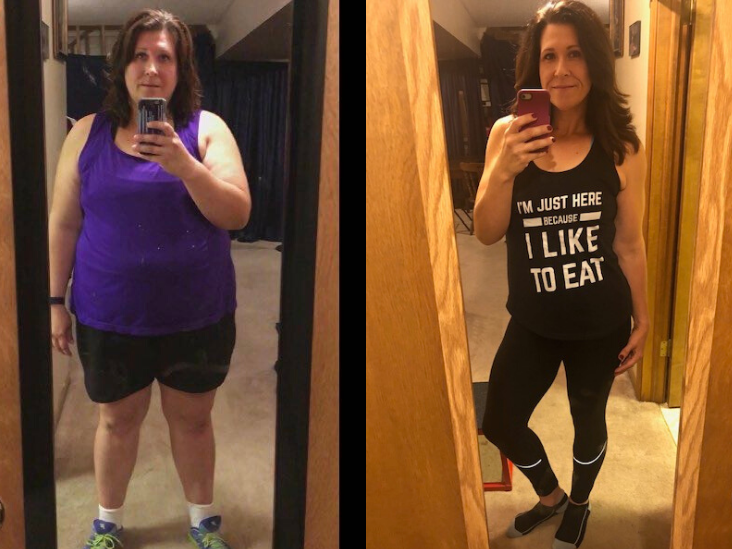 $1030
Name:

Laura M.

From: Atchison, KS

Lost: 103 lbs

in: 12 months

Won: $1030


"I was in a dark and depressed place in my life," recalls Laura M. when discussing life before starting her weight loss journey. "My son has special needs — he has severe autism. His diagnosis was kind of a shock to me and put me in a dark place." Struggling to cope with her son's diagnosis while managing everyday life, Laura found her weight escalating up to 300 pounds.
"I came to the realization that I was not going to be able to take care of [my son] if I continued to be at 300 pounds," she states. Knowing her son would require long-term care well into adulthood, Laura decided to make a change. "That was my 'why', my big motivator to get started on losing weight."
When it came to losing weight, Laura knew she needed to keep it simple. "We're a special needs family and have a lot going on with therapy appointments on top of my full-time job." Instead of restricting food choices, she instead focused on filling her plate with mostly veggies, as well as protein and healthy carbs. In addition to revamping her diet with healthy foods, Laura started incorporating exercise into her morning routine.
Setting her alarm clock one hour earlier than usual, Laura forced herself out of bed each morning and practiced strength training. "I despise cardio and knew if I was going to work out, I needed to enjoy what I was doing." After finding a strength training program, Laura immediately got busy and fell in love with it.
When her final weigh-in confirmed she had not only met but surpassed her goal, losing 103 pounds, Laura won $1,030!
Having lost over 100 pounds, Laura is stronger than ever. "I feel amazing and I know that sounds corny. My husband even tells me I'm a completely different person. I have so much more energy." Not to mention, her newfound love of working out. "Exercise has become my daily dose of medicine. When I workout in the morning, I feel so much better throughout the rest of the day. It's what pulled me out of my depression and helped me not only transform physically, but also emotionally."
"Not only does HealthyWage give you the motivation of money (who doesn't want to win money for losing weight?), but it also gives you an opportunity to invest in yourself," says Laura. "My financial return was great, but mentally and physically, it's an even better return."

You Can Win Like
Laura M.