Encourage Health & Fitness among your school community!
Earn money for your school through a HealthyWage FUNdraiser!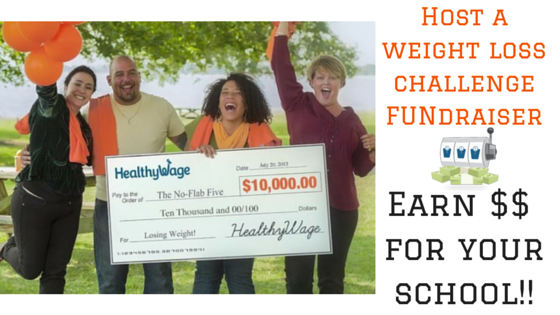 Are you looking for a fun and hassle-free fundraiser that your whole school community can get behind?
Skip the selling and host a HealthyWage Weight Loss Challenge or Million Step Challenge.
Email us at schools@healthywage.com to get started!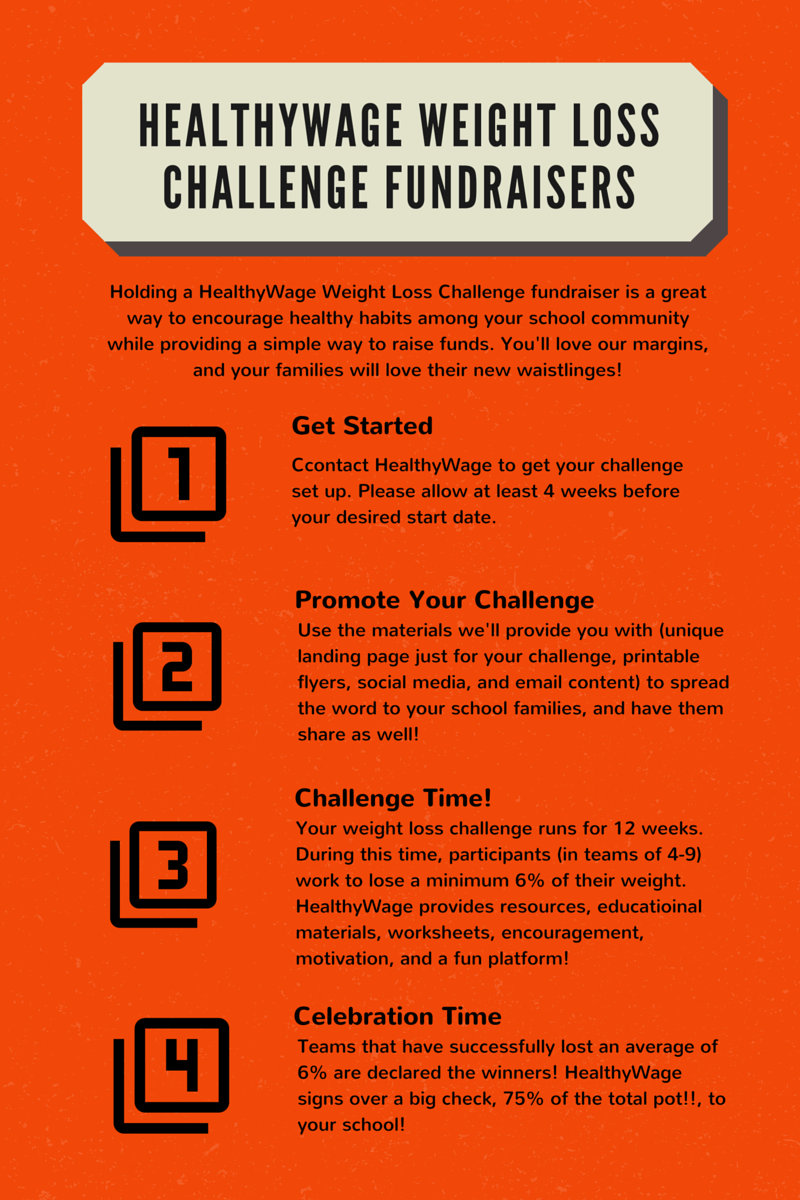 Tips for a successful Challenge Fundraiser:
- Encourage your school families to challenge their friends and family members to participate with, or against, them.

- Offer prizes for "Mini Challenges" you can host throughout the challenge with our assistance. For example, award the Team with the best "Before Photo" with a gift card to a local fitness store. Team up with a local gym to offer discounts to all challenge participants.

- Earmark the school's earnings to go toward health and fitness initiatives at your school, such as to purchase new gym or playground equipment.

- Need more ideas? We're full of 'em - just reach out today by emailing schools@healthywage.com.
------
2016 is quickly approaching, which means New Year's Resolutions. Help your community stick with their goals by offering a fun and fitting challenge.
You earn money for your school + they get healthy = a win-win situation!
Email us today at schools@healthywage.com to get started.
---
ABOUT HEALTHYWAGE
As seen on the Today Show, Good Morning America, CNN and countless others, industry-leading health and wellness company, HealthyWage, provides cash incentives, social and expert-based support, tools and resources, and goal-setting and tracking technologies to address our nation's obesity epidemic and improve America's collective health. HealthyWage is at the forefront of the weight wagering movement, having formally created competitive, cash-fueled programs for more than 90 Fortune 500 and other companies, hospitals, health systems, insurers, school systems, municipal governments and other organizations throughout the U.S., including General Electric, Johnson & Johnson, and CVS Health, and their program has been more informally run at more than 3,000 companies and organizations. The company was founded in response to academic research that proves even small cash rewards triple the effectiveness of weight-loss programs; that people are more effective at losing weight when their own money is at risk; and that social networks play a large role in the spread of obesity, and will likely play a large role in reversing obesity. Check out our recent press coverage, find out why HealthyWage works, and see some success stories here.