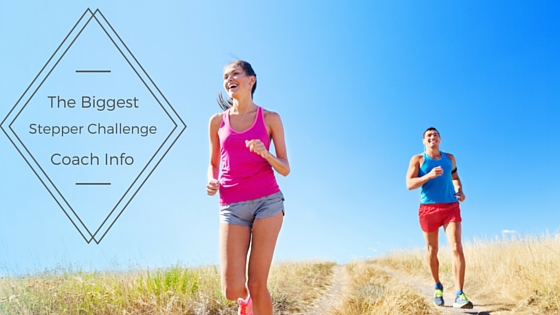 Coach your friends, family, and fans
to a healthier, more active lifestyle
and compete against other Biggest Loser Alumni
with HealthyWage's
THE BIGGEST STEPPER CHALLENGE
How it works:
1. You join us as a coach for the challenge and invite your fans, friends, and family members to join via social media, blog posts, email blasts, and any other avenue at your disposal.

2. Participants sign up, put some money into the challenge pot, and join your coaching team during the registration process.
3. The challenge lasts for 30 days and all of the participants compete to increase their daily step average by 20%. EVERYONE that successfully hits their goal wins an equal share of the pot (regardless of whether or not their team hits the goal).
As coach, you'll earn 10% of the pot money from all of the participants that select you as the coach.
In addition, we will award one BL alumni coach the title of "Top Coach" with a prize based on how many alums participate. ($100 gets added for every alum that joins. If there are 10 alums participating, the "Top Coach" prize is $1,000.)
The Biggest Stepper Challenge starts August 1, 2016.
JOIN US!
Email Kate at kmiller@healthywage.com and she'll get you set up.