Will you be the first to cross the finish line?
How does the HealthyWage Race to Referral Contest work?
Simple. 1) Tell everyone you know how great HealthyWage is 2) Be the first individual to get 10 accepted referrals in the 48-hour window 3) Win a bunch of cash, $400 to be exact!
Who can win?
You! That's right, you can win $400 and be the first to cross the finish line! In fact, any current HealthyWage participant can win the race. Just use your official referral links to ensure you get credit for new sign-ups (use the "Invite Players" widget on your dashboard to get credit).
How do I refer people?
Use the referral widget on your dashboard to invite people to join HealthyWage. Spread the word through any channel: email, Facebook, Twitter, Pinterest, Linkedin, Instagram, Google+ and any other place you interact with humans. Again, make sure these humans sign up using your unique referral link.
Yeah, I'm excited! Now who should I tell?
Everyone! Tell your friends, co-workers, family, neighbors. Heck, tell your mailman or your favorite barista. Seriously…tell everyone! Good health is contagious, and the faster you help us spread the message of fun, effective weight loss challenges, the better your chance of winning $400!
When should I start telling people?
Now! Seriously, right this second. You only have 48-hours to reach the finish line!
How long do I have to get friends signed up?
You only have 48-hours from the time you receive the Race to Referral email! Run, don't walk!
What am I supposed to do again?
Tell everyone you know HealthyWage is the most fun, effective way to lose weight and win cash!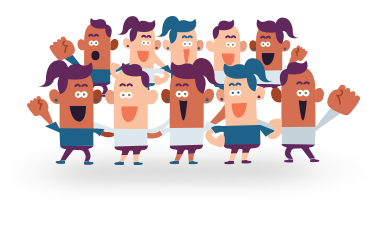 Contact us
For fastest response: email us at info@healthywage.com.
Call support at (888) 636-3832.
Our general fax number is: (651) 964-3499.