The $10,000 Team Challenge Is a Blast!
Check out:
The HealthyWage $10,000 Team Challenge is the exciting way to have fun, lose weight and earn rewards.
Sign up, create a team of 5 friends, coworkers, and/or family members and compete to lose weight for 12 weeks.

There are huge cash prizes for the most successful teams and lots of other prizes for staying on-track, too.

You get weight loss help and fun tools to use, including a social web space for your team, weight-loss tips and great weekly games and giveaways!
Tens of Thousands of Dollars in Cash Prizes!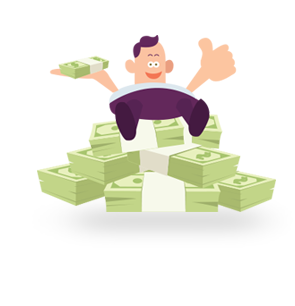 Top Team wins $10,000
The team with the greatest percentage weight loss in this challenge wins $10,000! Prizes are awarded by percentage lost, so even if you've only a little weight to lose you're in with a chance for the top prizes:
1st place: $10,000
2nd place: $5,000
3rd place: $3,000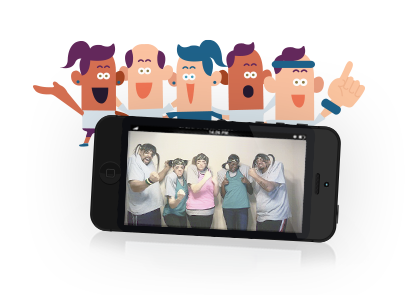 Step One: Register now
Entry is $25 a month (for three months) per player - or less if your employer is participating!
Step Two: Compete in a team of five
The Challenge is played in 5-player teams. We'll help match you with new friends if you don't know people taking part.
Step Three: Lose weight and take home the $10,000 top prize!
With weight-loss tips and advice and social tools to work with your team, the Team Challenge is a fun and effective way to lose weight!
We have Team Challenges starting each month -- check out the details here.
What Do I Get?
The Team Challenge has been designed around leading academic research focused on enhancing weight loss success using competition, team encouragement, structured peer pressure and games.
Your Team Challenge includes the following:
A 12-week program focused on losing weight with a team and building new habits around fun physical activities and healthy but delicious eating.

Optional activities (like experimenting with different types of exercise) that can really get your team into shape.

Ribbons - awards designed to celebrate progress and keep you on track.
The HealthyWage Team Challenge supports your weight loss plan (whether it's Weight Watchers or calorie counting) and helps make sure you're successful in your dieting endeavor.
How to Weigh In
Getting a Verified Weigh-in Is Easy
Do not get your verified weigh-in until the start date or later.
To keep the Challenge fair for all, we ask you to have your weight confirmed twice- once at the start, and once at the end. It's really simple!
You can choose any one of these:
Make a 30-second video from the privacy of your home. Learn how here. - OR -
Ask any health professional (doctor, nurse) or fitness professional (trainer, health club worker) to witness your weigh-in and sign your form (takes about 20 seconds). We'll accept your regular Weight Watchers weigh-in too. - OR -
If you're participating through your employer, there may be onsite weigh-ins at work. See your company intranet or call us at (888) 636-3832.
In the Press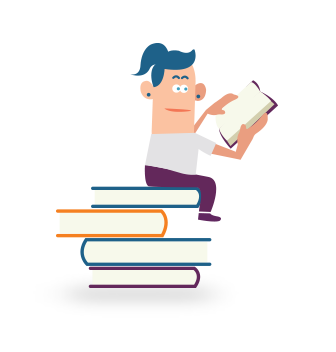 There's a buzz about weight loss incentives - and HealthyWage is right in the center. We're regularly featured in national and international press. Why not read for yourself in our blog.
"HealthyWage, I think has really learned that trick of, put that money in, got some skin in the game, you've got your carrot at the end or the risk of losing your money," Whicker said. "And no one wants to lose money."
Raj agreed that cash can make the difference. "As human beings, our brains really respond to rewards," she said. "Unfortunately, you would think being healthier, having a reduced risk of heart disease and cancer is the reward itself, but that's a long term thing. Money, you feel it in your pocket and you like it."
- TODAY
"For some, the excitement of competition and fear of letting down the team are additional powerful incentives. "Think about battle," Loewenstein added. "The combination of camaraderie and competition in battle is sufficient to get people to put their lives in great danger."
- The Washington Post
"Individuals and corporations aren't always able to give these contests the structure they need for people to take them seriously. Enter HealthyWage. [...] What's important is that the team wins as a group, so every member has a stake in other members' success."
- The New York Times
So many pounds lost, so much money won!
Check out some of our most recent winners. You could be next!
Will Work For Less Food
Lost 252 Pounds | Won $10,000
This close-knit all-family team from Salt Lake County, Utah lost an incredible amount of weight during the 12-week program. "I worked hard for 12 weeks – harder than I thought I could. But during those weeks I established a discipline to eating. Thank you HealthyWage for the incentive! Thank you Will Work For Less Food for the success!"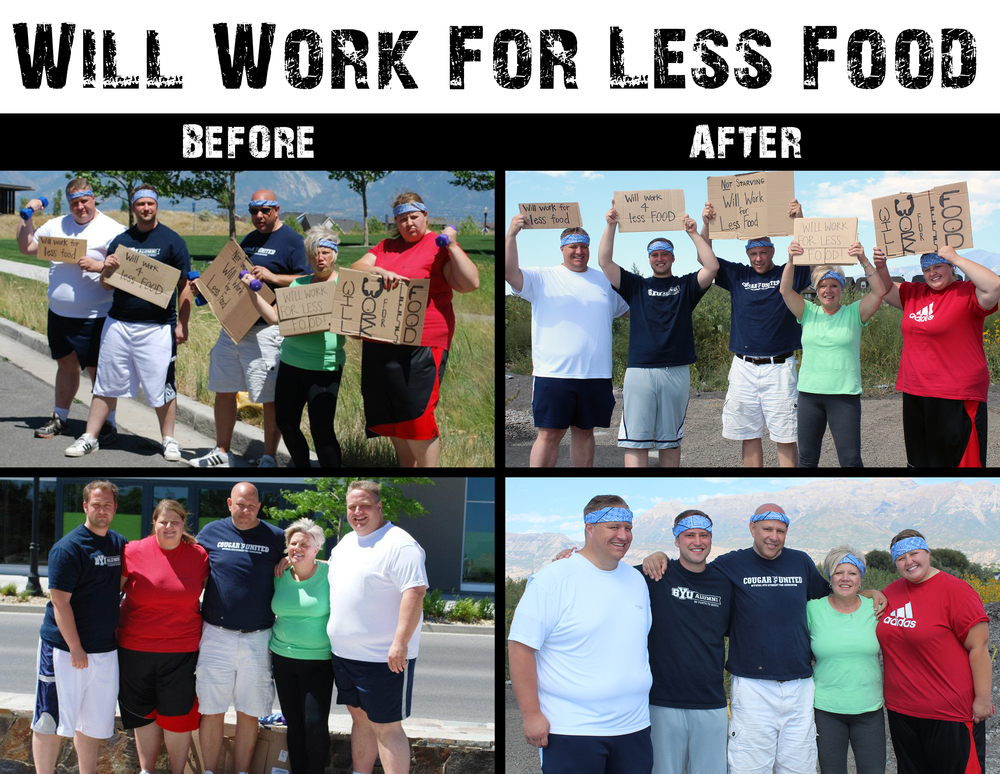 Find out the secret to their success here.
Baker Bomshells
Lost 120 pounds | Won $10,000!
The ladies who work together at Baker Donelson's Memphis, TN office are really amazing. Here's what they had to say: "I know I can speak for each of the Baker Bombshells that we truly appreciated the opportunity to improve our health through such a great competition; and I know each of us is walking away with more knowledge and self-esteem. Thank you!"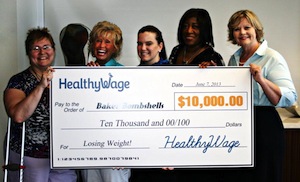 See how the Baker Bomshells won the $10,000 prize here.
Believe She Can
Lost 173 pounds | Won $5,000!
These gals are a group of mothers in Pierce County, Washington. "The weeks I struggled, I was encouraged by someone else on the team. It was refreshing knowing we were all in this together!"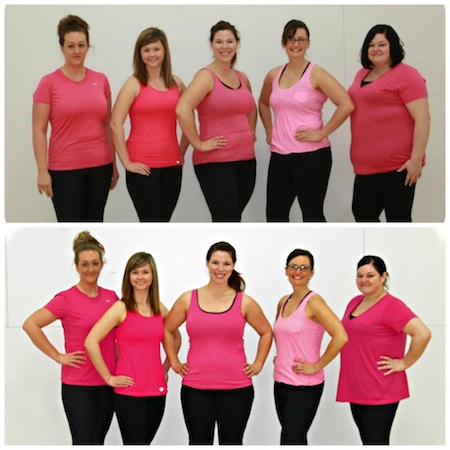 Check out the inspirational story of 'Believe She Can' here.

Righteous Brothers
Lost 214 Pounds | Won $10,000!
These 'brothers' from Davis County, Utah took the Team Challenge by storm coming in first place. "Being on a team was a huge motivator. I did not want to let them down. I did not want to be the only one who didn't reach the max weight loss. I also saw their progress and it kept me on track. It was nice to root each other on."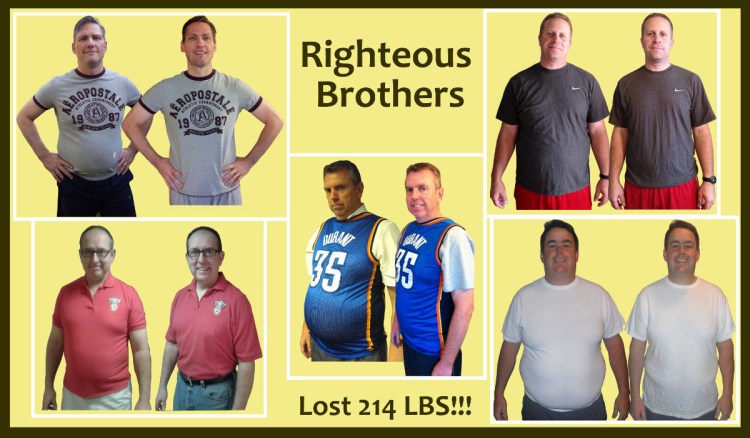 Read all about their weight loss journey here.